As a home inspector, you need to make your website mobile-friendly now. It will increase customer traffic, build credibility, and likely result in more sales.
Look at your website on your phone. If your site is old, the webpage appears as a static, scaled-down version of your desktop. Much of the page is cut-off, and the type looks so small you can't read it. This poor viewing experience is your cue to get a new website.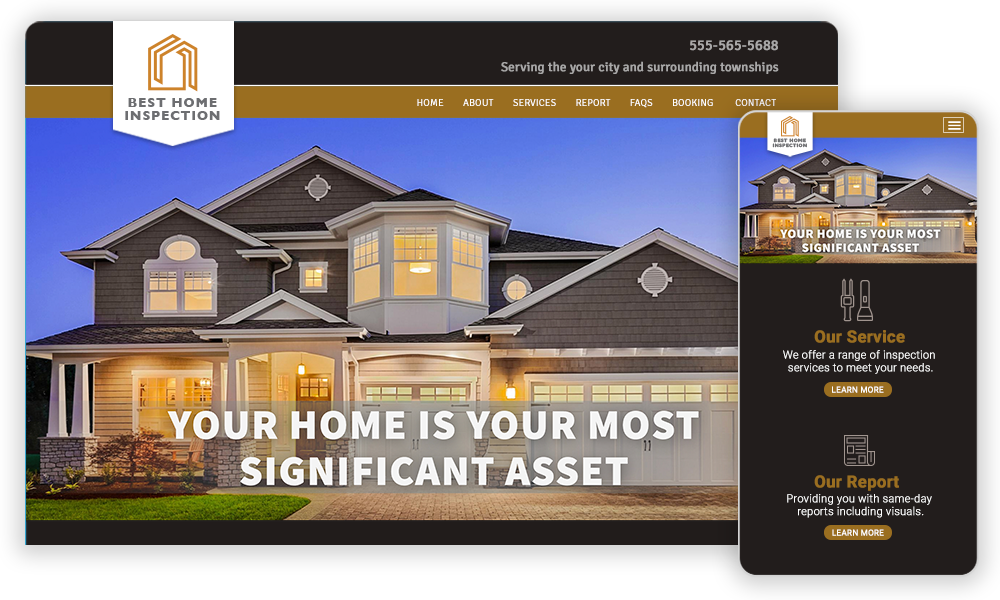 How your home inspection customers will benefit if your website is mobile-friendly
You may have heard this term "responsive web design." It means a website is built with special coding so that the content will change shape to fit any size of screen. That makes it mobile-friendly!
Most people have smartphones today. That includes potential customers like home buyers, sellers, and real estate agents looking to get a home inspection. Searching on their phone is convenient and fast. If they don't find the right info quickly, they will move on to another website.
Benefits of a mobile-friendly website:
Photos and text on a mobile-friendly site adjust to the different sizes of phones, tablets and computers. This adjustment makes your home inspection website easy for your customer to read and explore.
The menu displays differently to make it easier to navigate on the phone. It will usually appear as a small hamburger shaped icon at the top. There is no more need to pinch or zoom with your thumb and forefinger to find your way around.
Phones and tablets are touch screens, and people use their fingers to navigate. Having hot links for the telephone number and email address makes it easier to contact you with one click of a finger.
And finally, having a professional, mobile-friendly website tells potential customers that you care. And that's good for them and good for your business!
How your home inspection business will benefit from having a mobile-friendly website.
Now that we know how your customers will benefit from updating your website to a mobile-friendly one, what does this mean for your business?
Making your website mobile-friendly improves the organic ranking on Google's search engine results page (SERP). Google reports that half the searches on Google are now from mobile phones. And, if your site isn't mobile-friendly, visitors are five times more likely to leave. Use Google's mobile-friendly test tool to check your website.
Your business will look professional and modern. People like well-presented and well-thought-out information. Customers will be encouraged to stay longer on your page. Extra time spent on your page helps to rank on Google and ultimately leads to more inspections.
A professional site builds trust and credibility. You can feel confident that your customers will take notice.
Upgrading to a responsive, mobile-friendly site will increase traffic. Give you the chance to reach a wider audience and gain credibility. Oh, and did we say, likely result in more sales?
---
Get a professional, mobile-friendly website at Inspector's Edge – the website builder made just for home inspectors. We offer a 60-day free trial so you have nothing to lose. Set up is fast and easy. Pricing is very reasonable at $29 a month (paid yearly) and includes one domain name, five email accounts, plus much more.